Please call or email for bulk orders. Click here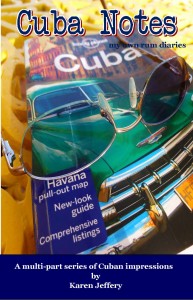 Cuba Notes – my own rum diaries: Havana to Baracoa, Vinales to Varadero, Trinidad and Santiago…even a peek at Guantanamo – beaches & valleys, food, cars, cuban cigars…music & art, trains & planes, Hemingway…and Mothers Day.
Whether you're going soon or are an armchair vagabond, enjoy fun facts and personal vignettes about Cuba, a beautiful, forbidden island.
$15 Includes domestic shipping
Published March, 2015
Author: Karen Jeffery
Editing, Layout, Design, & Cover Art by Publisher, RESOURCE UNLIMITED
Also available from