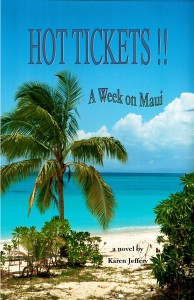 Hot Tickets!! ~ A Week on Maui
A vacation in a box…with a tropical twist. And whether you love Maui (yet) or not, you'll want to go along for the ride. Meet and fall in love with a trio of thirty-somethings, setting out on a crusade to the island – the fourth character, Maui: hunky heartthrob, demigod and jokester – with both beauty and personality. Quirky, sexy, and adventuresome with a sunny disposition, the island works its magic as road trips, local characters, surf breaks, and cheshire moons transform our heroines as surely as mai tai sunsets, punctuated by green flashes. Enjoy a jaunt, a romp, and a Maui fling with our three musketeers as they circumnavigate the island on a swashbuckling adventure (on steroids), while the transformative power of place sings.
$25 includes domestic shipping
Also available on
Smashwords
Createspace
Amazon
Kindle
Nook
"I absolutely love this book. It spirits one away to Maui on a whirlwind vacation with three fabulous women. Couldn't ask for better travel companions."
Kathleen Gowan, Mt. Vernon, Washington
Call for bulk orders or visit here for more.