It's a new year…enjoy more books, more fun, more gifts for family & friends.
When you buy from an artist or small business, an actual person does a happy dance!
Buy local!!  Book club and bulk purchase discounts.
---
Available NOW: my little French diary, a memoir

Once I dreamt of a sojourn in the south of France. I envisioned it as the ultimate writer's workshop. By May I was at the Cannes Film Festival with my press pass, settling in for a sweet adventure, immersing myself in the language, studying French and enjoying nearly every museum, gallery, and cultural venue along the Côte d'Azur.
I interviewed film buffs, expats, and yachties, made discoveries and friends, and spent a week with wine-making monks on an angelic island. I shot over 2500 photos and tried to keep up with an ambitious blog, while becoming an 'Explorer' and 'Top Contributor' to Trip Advisor. The adventure untethered me, opened me, lit my creative fires.
There were side trips to Italy, and jaunts into Provence, but mostly I lived along the dazzling coastline of the French Riviera. I wish everyone could visit this special part of the globe at some time, to experience its wonders, its charming people, and its enviable lifestyle.
Cuba Notes – my own rum diaries: Havana to Baracoa – beaches & valleys, food, cars, cuban cigars…music & art, trains & planes, Hemingway…and Mothers Day.
Whether you're going soon or are an armchair vagabond, enjoy fun facts and personal vignettes about this beautiful, forbidden island.
$15 includes domestic shipping
---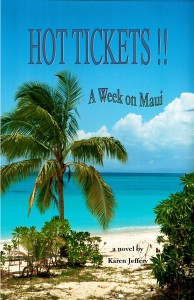 Hot Tickets!! ~ A Week on Maui
A vacation in a box…with a tropical twist. And whether you love Maui (yet) or not, you'll want to go along for the ride. Meet and fall in love with a trio of thirty-somethings, setting out on a crusade to the island – the fourth character is Maui: hunky heartthrob, demigod and jokester – with both beauty and personality. Quirky, sexy, and adventuresome with a sunny disposition, the island works its magic as road trips, local characters, surf breaks, and cheshire moons transform our heroines as surely as mai tai sunsets, punctuated by green flashes. Enjoy a jaunt, a romp, and a Maui fling with our three musketeers as they circumnavigate the island on a swashbuckling adventure (on steroids), while the transformative power of place sings.
$25 includes domestic shipping:
---
Are you a Neosomaniac?
A neosomaniac, I'm mad about islands!
How could I not be? For many years it was the best part of my job – seaplaneing to remote villages, drinking kava with chiefs, crunching numbers and designing marketing plans on sparkling beaches…surfing the best breaks, as I worked all over the South Pacific, brokering personal estates, boutique hotels, and private islands.
Over 300 island portraits represent some of my 20 years on over 90 islands. Enjoy a free slideshow here.
Thank you, Karen — surely a feast for the eye, the imagination and the heart.  A stunning achievement and one that evokes awe for islands we've experienced or only dreamed of.  A wonderful gift for those already seduced by the islands or those who likely will be by your book. Congratulations on a beautiful piece of work! Love, Herb Long
Beautiful book and photos…I'm impressed.  Mike VV
Karen, this is fabulous!!!  Can I sell some in the gallery?…I want everyone to have it!!! Thanks XXX  Maria
BEAUTIFUL!!!! Katey Coffing, PhD.
Karen~  your book is fabulous! Dori Nordeck
Wow! Are all those are your pics? You've been to some great places. Great book!! Steve Van Vleck
Beautiful Island Book of photos and reflections!  You definitely are an "Island Girl"!  Many Lifetimes of Island Living, I can tell! Bev Newsham
Awesome, awesome work!! I love it. That is absolutely a masterful production. Makes one long for the island cultures. Great job; thanks so much for sharing these beautiful images. Kevin Wallace


Beeeeeeeeautiful KJ……..love it!!!!!!!!!!!!!!!!!! Mindy Raymond

---

 Coconut Cuisine ~ Secret of Happy Islanders
A happy meal for islanders, Hawaii to Rarotonga, always includes something coconut. This little chap book will unlock some of the secrets islanders know about using the coconut to add to your culinary repertoire. Then use some of my favorite recipes to jump start your own experimentation with this marvelous ingredient. See if it doesn't bring more joy and aloha into your life!

Order here